Vada Pav Recipe
contact@nuturemite.info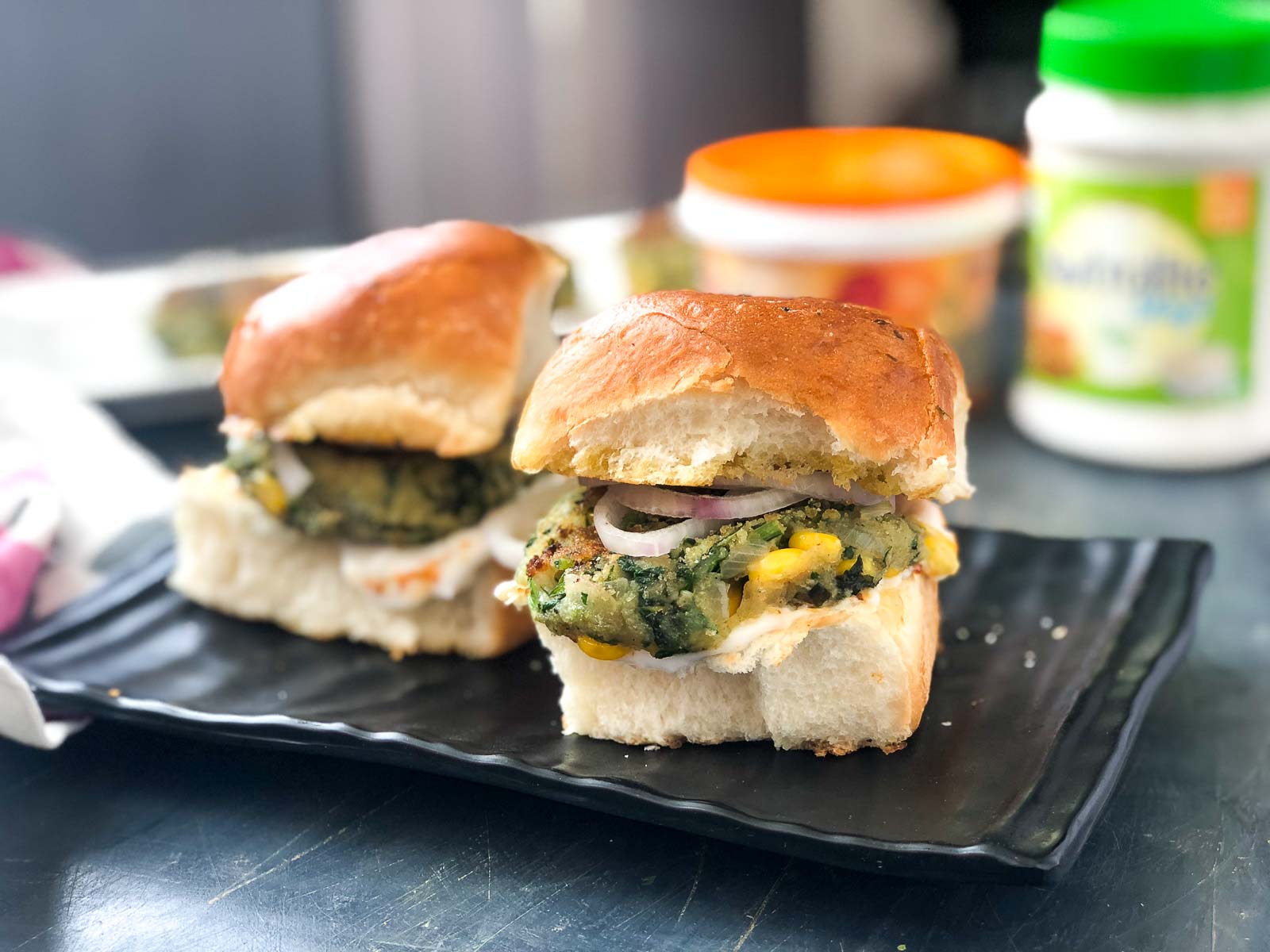 Ingredients
8 Pav buns
Nutralite Garlic & Oregano Spread, for toasting the buns
1/4 cup Lahsun Ki Chutney (Red Garlic Chutney)
1 Onion, cut into rings
4 tablespoons Nutralite Veg Mayo
Recipe for Spinach Corn Vada
1 teaspoon Nutralite Classic Spread
4 cloves Garlic, finely chopped
2 Green Chillies, finely chopped
1 Onion, finely chopped
1 inch Ginger , finely chopped
1 cup Spinach, chopped
1/2 cup Sweet corn , steamed
1 teaspoon Chaat Masala Powder
4 Potatoes (Aloo), boiled and mashed
Salt, to taste
1/4 CUP Nutralite Classic Spread
1 cup Bread crumbs , for dusting
How to make Homemade Vada Pav Recipe With Spinach Corn Tikki
To begin making the Vada Pav with Spinach Corn Tikki Recipe, first get all the ingredients together. Prepare the Lahsun Chutney and keep aside.
The next step is to make the Spinach Corn Tikki for the Vada Pav.
Heat Nutralite Classic Spread in a skillet pan and allow it to melt. Stir in the onions, garlic, ginger, green chillies and sauté for a couple of minutes till onions are soft and light golden in colour.
Finally stir in the spinach and cook the spinach and mint leaves for a few seconds until it wilts down and the moisture is almost evaporated. Add the mashed potatoes and steamed sweet corn, chaat masala and sauté for a couple of minutes and it becomes a thick firm tikki mixture.
Allow the spinach corn tikki mixture to cool down. Shape the Spinach Corn Tikki mixture into round balls and keep aside.
Coat each of the spinach corn tikki with bread crumbs.
Preheat a skillet, melt the Nutralite Classic Spread and pan fry the Spinach Corn Tikki until they are browned and crisp on all sides.
Take care not to turn the heat to high as this will not evenly cook the batter and you might just end up with over browned and uncooked portions.
Assembly of Vada Pav
Slice the pav buns into half horizontally. Spread the Nutralite Garlic & Oregano Spread and toast them on the pan on both sides, until the surface is lightly golden and crisp. 
Once done, Spread some Lahsun Chutney on one half and Nutralite Veg Mayo on the other. Place a Spinach Corn Vada and a few onions rings between the buns and Vada Pav is ready to be served.
References
https://www.vegrecipesofindia.com/vada-pav-how-to-make-wada-pav/
https://www.indianhealthyrecipes.com/vada-pav-recipe/
https://www.cookwithmanali.com/vada-pav/
https://hebbarskitchen.com/vada-pav-recipe-make-vada-pav-wada-pav/