Kerala Style Coconut Milk Stew Pasta Recipe
contact@nuturemite.info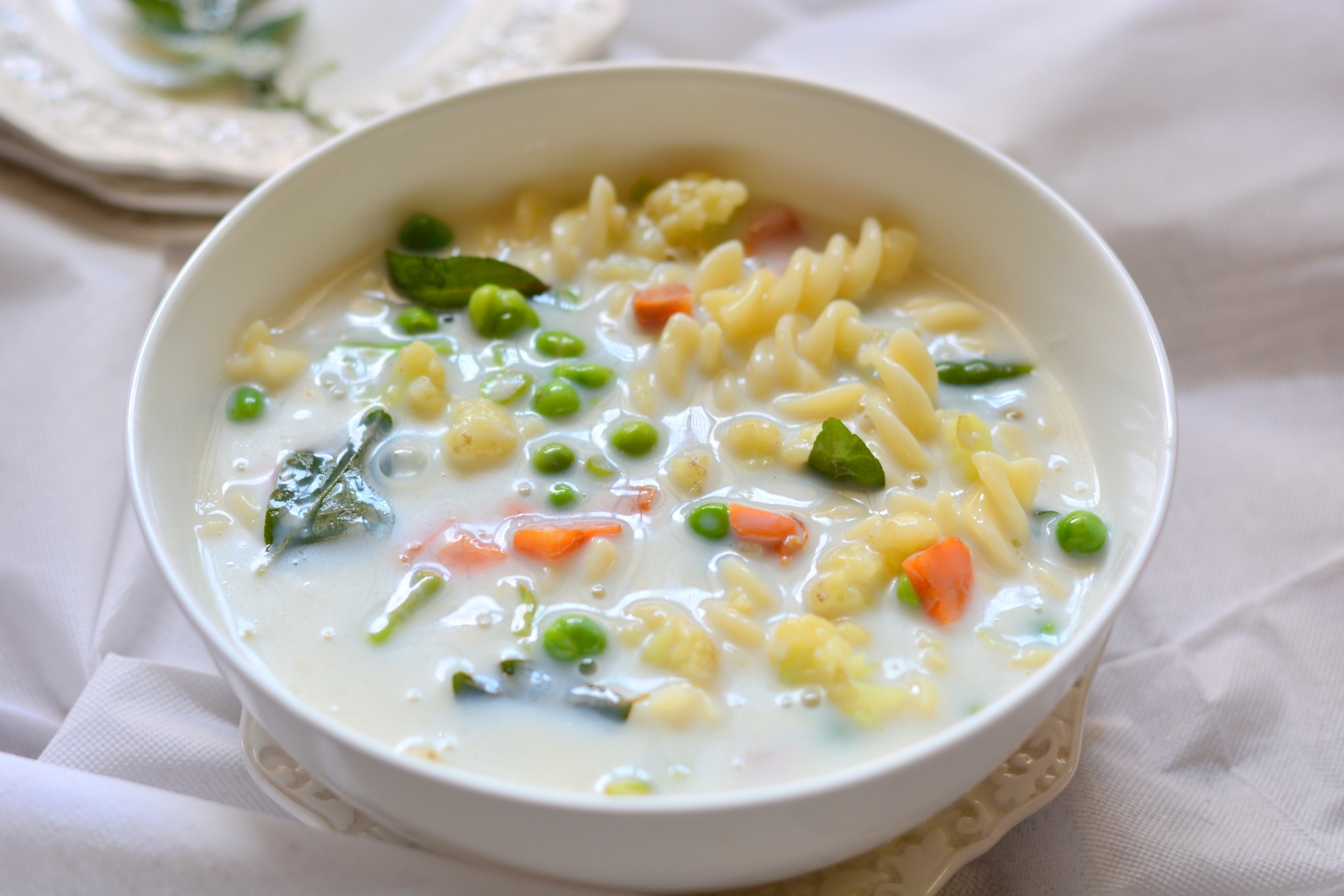 Ingredients
2 cups Pasta Fusilli , boiled
2 cups Coconut milk
1 Carrot (Gajjar), chopped
1/2 cup Cauliflower (gobi)
1/2 cup Green peas (Matar)
1/2 cup Green beans (French Beans) , (optional)
1 Onion, chopped
3-4 Cardamom (Elaichi) Pods/Seeds
4-5 Black pepper powder
1 inch Cinnamon Stick (Dalchini)
3 Cloves (Laung)
2 Green Chillies, slit
1 teaspoon Ginger, grated
1 cup Lukewarm Water
2 sprig Curry leaves
1 1/2 teaspoons Salt, (adjustable)
3 tablespoons Cooking oil
How to make Kerala Style Coconut Milk Stew Pasta Recipe – Indian Style
To begin preparing the Kerala Style Coconut Milk Stew Pasta Recipe , first cook the pasta. 
In a large pot, add water and bring it to a boil. Once the water has boiled, add a teaspoon of salt.
Add the pasta to the boiling water and cook until the pasta is cooked until al dente (just cooked). This process should take a good 12-15 minutes to get an al dente pasta.
Once the pasta is cooked, drain the water and run the cooked pasta under running water to stop the cooking process and prevent the pasta from sticking to each other.
Drizzle some oil on top of pasta and make sure to coat all of the pasta with the oil so that the pasta doesn't stick to each other.
The next step is to make the Kerala Stew with Vegetables for the Pasta.
Heat oil in a wok and add pepper, cardamom, cloves and cinnamon and saute it for few seconds.
Now add the slit green chilies, chopped onions and grated ginger. Mix well and saute till raw smell of onions goes away.
Stir in the chopped vegetables(carrot, cauliflower, green beans and green peas) and stir again.
Add water and salt, cover the lid and cook at low flame till vegetables are soft and cooked.
Once the vegetables are cooked, add the coconut milk on low heat and keep stirring and cook the Kerala Style Coconut Milk Stew Pasta another 2-3 mins at low heat.
Once the stew starts to thicken, add boiled pasta and cook for another few minutes. 
Turn off the heat and check the salt and adjust according to taste. Transfer the Kerala Style Coconut Milk Stew Pasta Recipe to a serving bowl and serve hot.
Serve the Kerala Style Coconut Milk Stew With Pasta with garlic bread for a weeknight dinner.
References
http://www.spoonforkandfood.com/kerala-style-coconut-milk-stew-with-pasta-recipe
https://www.betterbutter.in/recipe/39065/kerala-style-coconut-milk-stew-with-pasta