Baby Corn And Paneer Kathi Roll Recipe
Nuturemite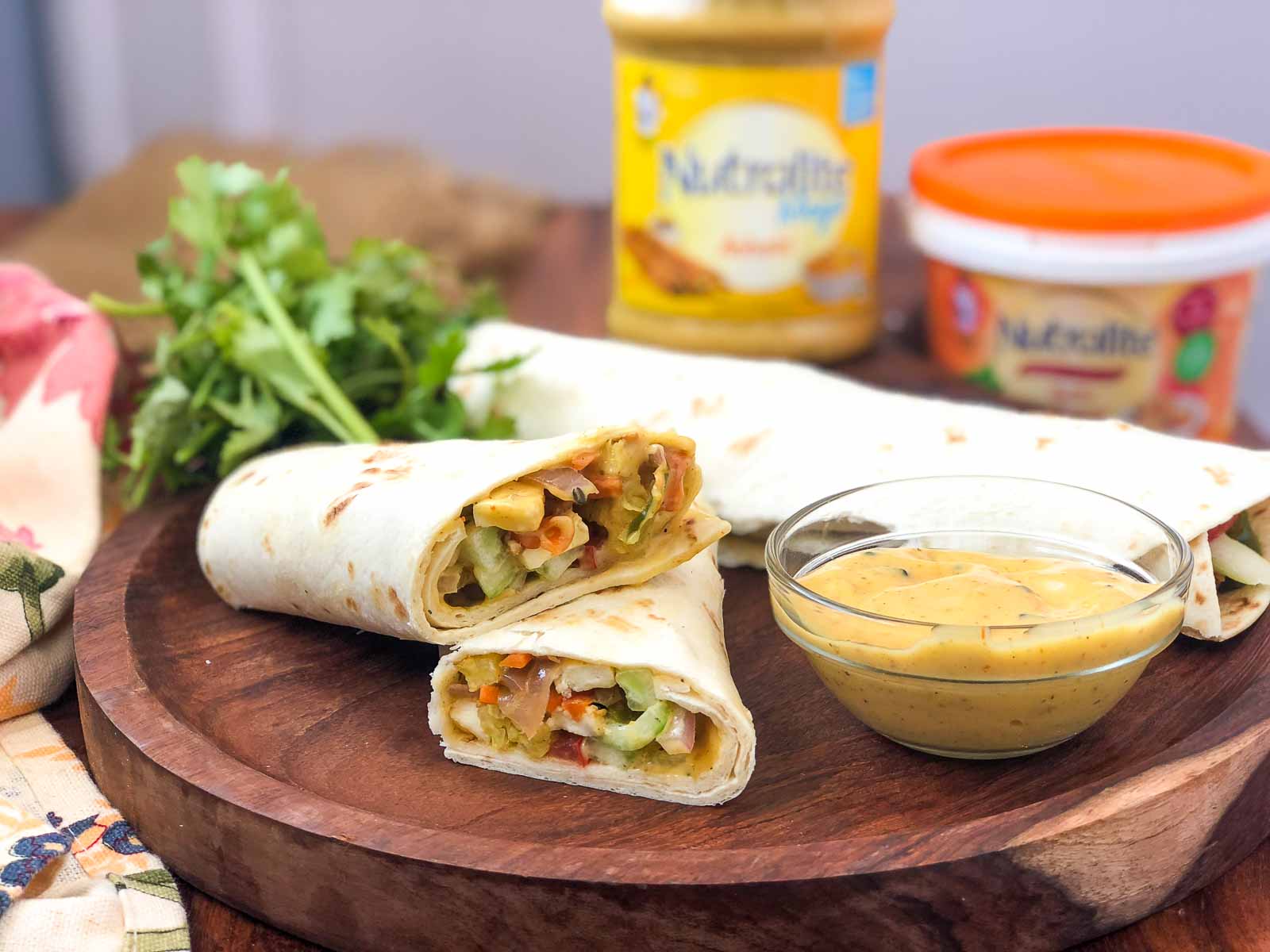 Ingredients
1 teaspoon Herb Butter
4 cloves Garlic
1 Onion , thinly sliced
1 Green Bell Pepper (Capsicum) , thinly sliced
1 Carrot (Gajjar) , julienned
100 grams Baby corn , cut length wise
Salt , to taste
200 grams Paneer (Homemade Cottage Cheese) , cut into strips
1 teaspoon Chaat Masala Powder
1 tablespoon Achari Mayo
4 Tortillas , or Whole Wheat Tawa Paratha made into large round sizes for rolls
1 Cucumber , cut lengthwise
1 Tomato , cut lengthwise
1 Onion , cut lengthwise
4 tablespoons Achari Mayo
How to make Baby Corn And Paneer Kathi Roll Recipe
To begin making the Baby Corn And Paneer Kathi Roll Recipe prep all the ingredients and keep them ready.
Make the tortilla according to the Homemade Whole Wheat Flour Tortillas ; and keep aside.
To make the Herb Butter follow Homemade Herb Butter Recipe.
Heat Herb butter in a saucepan over medium heat; add the garlic, onions, the bell peppers, carrots and baby corn. Saute them well till the vegetables turn soft and tender.
Once the vegetables are tender, add the cut paneer pieces, the Achari Mayo and toss until well coated. Avoid over cooking the paneer at this stage as it can make the paneer rubbery.
Add the chaat masala to the baby corn and paneer mixture and mix well to combine. Check the seasoning and adjust according to your taste. Turn off the heat and keep aside.
Place the tortillas on the preheated pan. Spread some herb butter over the tortilla and flip and cook till the tortillas are just warmed up and soft. Remove the tortillas from the pan and place the tortillas over a flat surface.
Place a portion of the baby corn paneer filling in towards the centre. Place some cucumber, tomatoes and onions on top of the filling and add some extra Achari Mayo and roll up the Baby Corn And Paneer Kathi Roll tightly.
Serve the Baby Corn And Paneer Kathi Roll along with a glass of Chikoo Banana Date Smoothie Recipe as an after school snack or even for a Saturday afternoon kids party with their friends.
References
https://www.tarladalal.com/Paneer-Tikka-Roll-Paneer-Tikka-Kathi-Roll-32615r
http://foodviva.com/snacks-recipes/paneer-kathi-roll-paneer-tikka-wrap/