Moong Dal Khasta Kachori
Nuturemite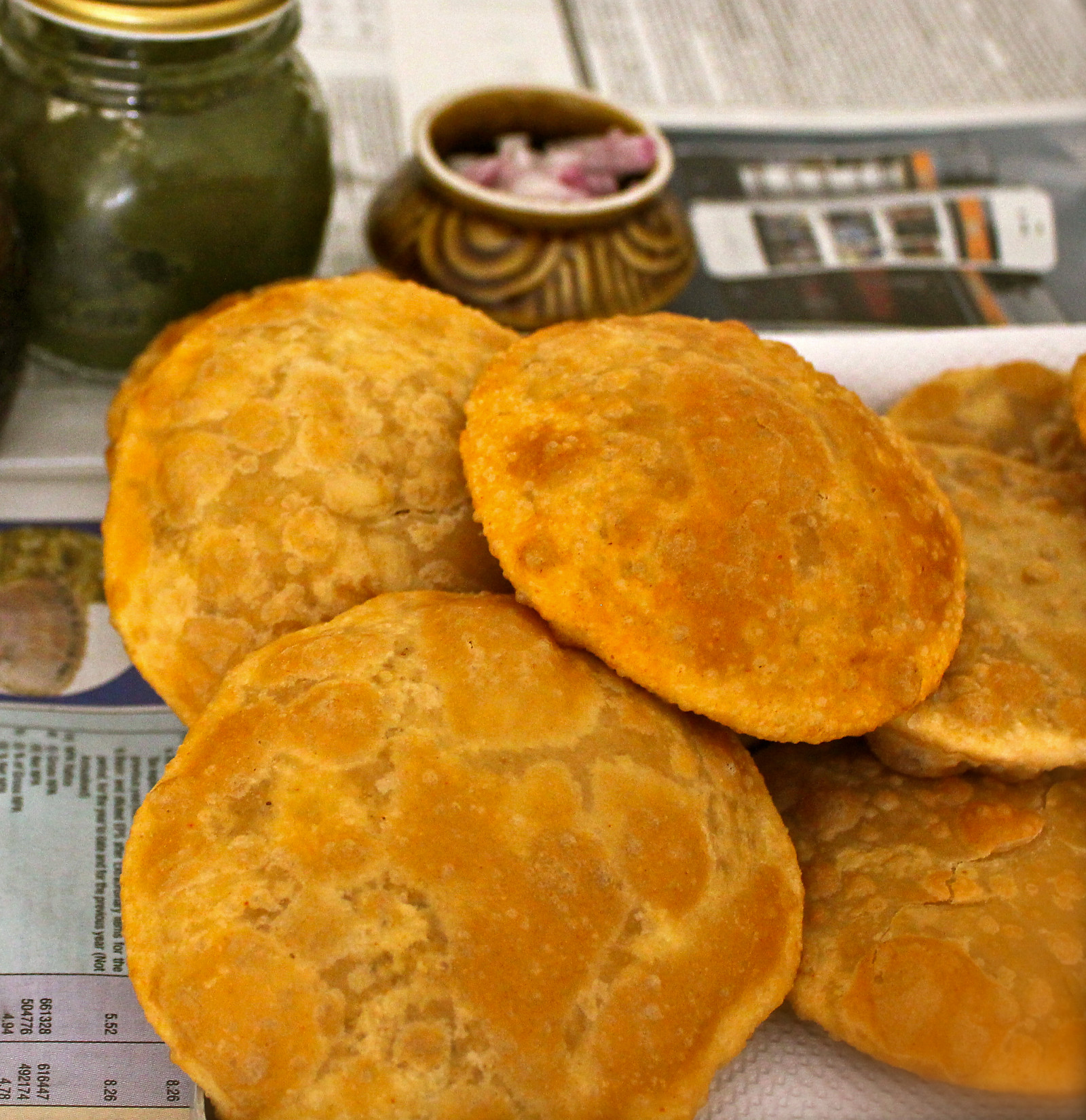 Ingredients
For the Dough:
1/2 cup Whole Wheat Flour
1/2 cup All Purpose Flour (Maida)
1/4 teaspoon Salt
2 tablespoons Cooking oil
Chilled water , to bind the dough
For the Filling
1/2 cup Moong dal Namkeen
1 teaspoon Asafoetida (hing)
2 teaspoon Ajwain (Carom seeds)
1/2 teaspoon Cumin powder (Jeera)
1/2 teaspoon Coriander (Dhania) Powder
1/2 teaspoon Red chilli powder
1/2 teaspoon Amchur (Dry Mango Powder)
1/2 teaspoon Chaat Masala Powder
1/2 teaspoon Fennel Powder
1 teaspoon Cooking oil
Cooking oil , for deep frying
How to make Moong Dal Khasta Kachori Recipe
To begin making the Moong Dal Khasta Kachori Recipe, first we will make the dough of Khasta Kachori.
Mix the flour, salt and oil in a mixing bowl. Rub oil and flour between fingers to get bread crumb like texture. Add chilled water slowly, mixing with your fingers as you pour to make the kachori dough.
Add just enough water to get all the dough together and knead to make a soft and smooth dough. Cover the dough and let it rest for at least fifteen minutes.
Next, we will make the filling for the Kachori. To make the filling, add moong dal namkeen in the blender and grind it a coarse powder.
Now, Heat a heavy bottomed pan and add oil. Once the oil is warm add all the masalas required like cumin powder, coriander powder, red chilli powder, fennel powder, chaat masala and amchur powder, crushed namkeen, salt and saute till well combined. Turn off the heat and keep aside.
Finally, we will make the kachoris. Once the dough has rested for 15 minutes, knead the dough again to make it smooth. Divide the dough in large lemon size equal parts.
Take one part of the dough and with your fingers flatten the edges and make into 3-inch circle. Leaving center little thicker than the edges .
Mold the dough into a cup and place 1 teaspoon of filling in the center. Pull the edges of the dough to wrap the dal filling. Repeat with the rest. Let the filled ball rest for 3 to 4 minutes before rolling.
Set the kachoris on a surface with the seams facing up. Using the base of your palm, slowly flatten them into about 3 inch circle.
Now, we will fry the kachoris. Preheat oil for deep frying the kachoris.
Once the oil is hot gently slide the Moong dal Kachoris into the pan. Fry these stuffed moong dal kachori on medium-low heat. After they start to puff, slowly turn them over to the other side. Fry until golden-brown on both sides.
Take them out on an oil absorbent paper to absorb the excess oil. Once done, transfer the Moong dal Kachoris into a serving plate and serve. 
This mouth watering Kachori with moong dal filling can be served with yogurt, Green Chutney, Tamarind Chutney and finely chopped onions for your evening snack or as starters for dinner parties.
References