Baked Pasta Recipe
Nuturemite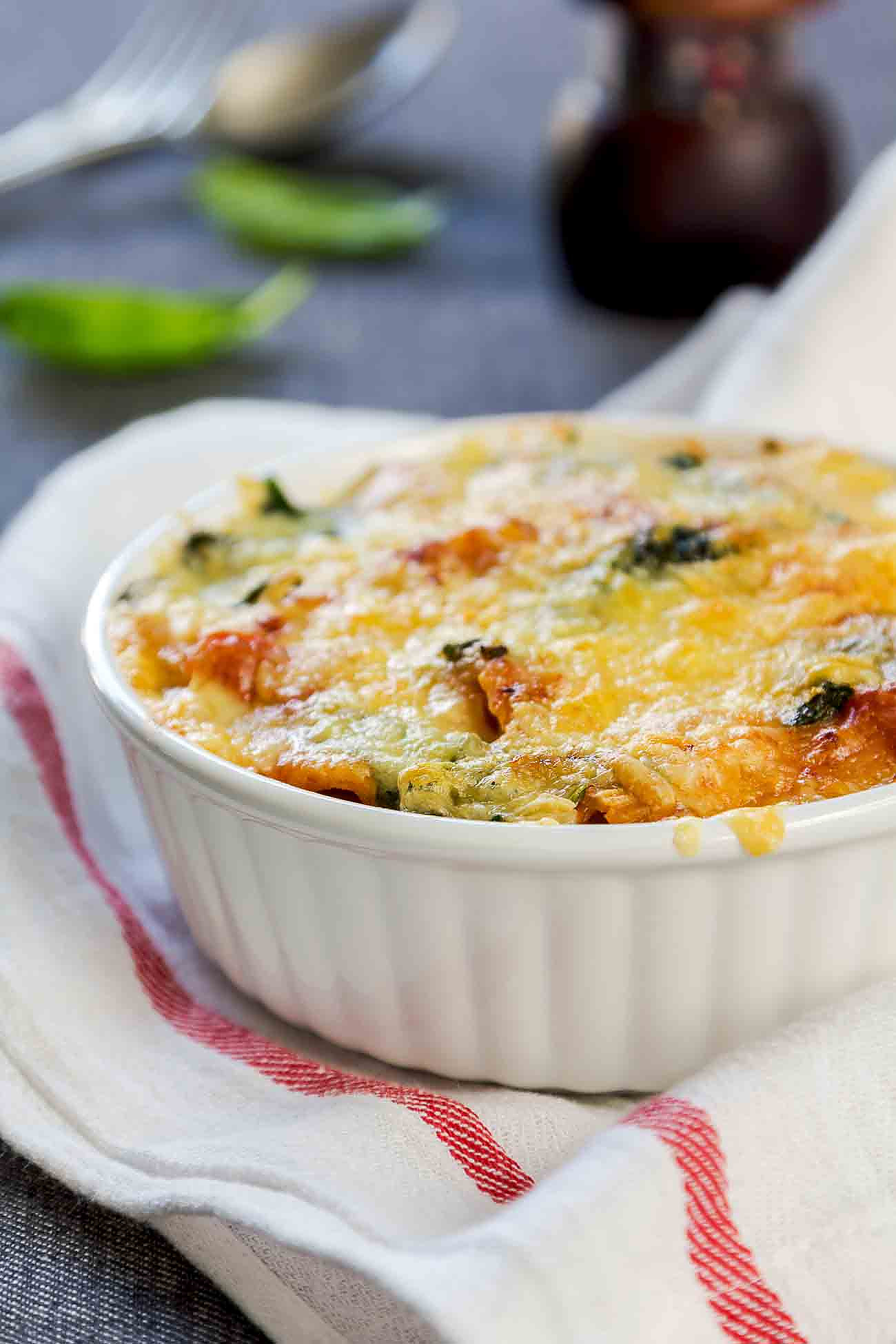 Ingredients
300 grams Rigatoni Pasta
2 tablespoons Olive Oil
3 cloves Garlic, finely chopped
2 cups Homemade tomato puree
100 grams Spinach , roughly chopped
Salt and Pepper, to taste
2 teaspoons Red Chilli flakes
8 Basil leaves, chopped
1/2 cup Cheddar cheese , grated
1/2 cup Paneer (Homemade Cottage Cheese) , crumbled
Spinach Leaves (Palak), 2 bunches, finely chopped
How to make Baked Pasta Recipe with Paneer and Spinach
To make Baked Pasta Recipe with Paneer & Spinach first preheat oven to 200 C. Prep all other ingredients as well.
Bring a large pot of water to a boil. You can add salt to fasten the boiling process and once it is boiling add your Rigatoni Pasta. Bring pasta to boil and cook until the Rigatoni is cooked and is al dente (that is just done).
Drain the pasta into a colander and rinse under cold water. Return the Rigatoni to the pot, drizzle some olive oil and set aside.
Heat olive oil in a skillet over medium heat. Add garlic and saute until tender and golden. Add the tomato puree, basil, spinach, salt and saute for about 5 minutes until the spinach becomes tender and not completely soft. Remove the mixture from the heat and set aside.
Add the cottage cheese to the above tomato sauce. Stir in gently. 
Preheat the oven to 180 degree Celsius for 10 minutes. 
Take a baking dish, place a layer of cottage cheese & tomato sauce mixture at the bottom, then a layer of half of the Rigatoni, then sprinkle 1/2 of the cheddar cheese, remaining  sauce again, then the remaining Rigatoni and finally the remaining cheese. 
Place it in the oven covered with aluminum foil in the preheated oven for 30 minutes or until the center of the pie is set. Remove the foil and allow it to bake open for 5 minutes or until you notice the top is browned and golden.
Remove the Baked Pasta Recipe with Paneer & Spinach from the oven and let it stand for 10 minutes. Run a spatula around the edges and underneath the pasta to loosen. 
To serve Baked Pasta with Cottage Cheese and Spinach Recipe, pair it along with Bruschetta with Olives & Raisins. 
References
https://cookpad.com/in/recipes/2610201-paneer-spinach-pasta-bake
http://www.veggiebelly.com/2011/08/vegetable-paneer-pasta-bake.html
https://www.tarladalal.com/Baked-Fettuccine-with-Spinach-in-Paneer-Sauce-31093r